===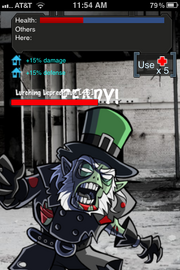 Lurching Leprechaun=== Sometime around march, a breaking news report just came in - THERE ARE GREEN OFFENSIVE IRISH STEREOTYPE ZOMBIES ON THE LOOSE!!! We knew what we had to do. The first time we encountered one, it was a green, Irish dressed and green hatted zombie that lurched around and had very unusual agility. People called it - The Lurching Leprechaun
Lurching leprechauns are holiday Zombies that appear in the month of march (Specifically near St. Patrick's Day). They are a bit harder than most zombies and are actually very hard to find. They are elusive. Should you find one, take it down. If you beat 25 of these green monters you were awarded with the Lucky Shillelagh - A powerful cane that is very hard to pronounce and surprisingly doesn't break.
Credit goes to PSC Player Chaos Dracos for the picture and the description

Ad blocker interference detected!
Wikia is a free-to-use site that makes money from advertising. We have a modified experience for viewers using ad blockers

Wikia is not accessible if you've made further modifications. Remove the custom ad blocker rule(s) and the page will load as expected.